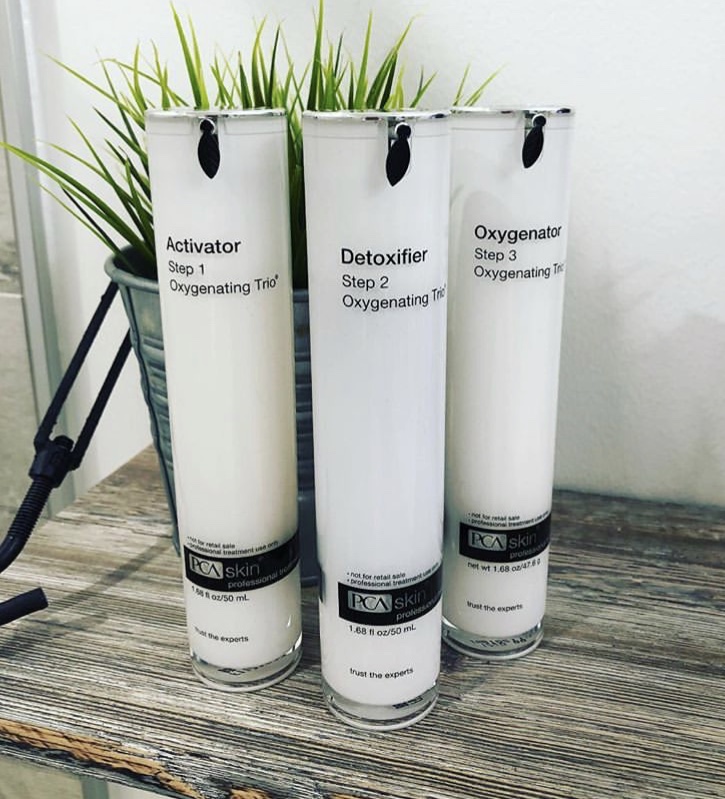 THERAPEUTIC FACIALS
All facials at Skin Deep are highly customized and designed to improve the health of your skin so this is a general guideline of what may be used in your treatment. A combination of modalities such as High Frequency, My Skin Buddy LED Therapy, jade rollers and ice rollers may be used as needed. 60 and 90 minute options for Therapeutic facials which includes skin analysis, cleanse, exfoliation enzymes, extractions, facial massage, neck and shoulder massage, hand and arm massage, customized masks, MYSKIN BUDDY LED, targeted serums, lip and eye care, and sunscreen. The 90 minute facial includes Gua Sha stone with facial massage, additional therapeutic masks, and time under the LED panel.
Oxygenating Trio (a peel alternative)- this antioxidant therapy facial supports skin metabolism to hydrate, purify and clear the complexion, leaving skin glowing and radiant. Perfect for "'dull" looking or breakout-prone skin. A great treatment 2-3 days before a special event with no visible exfoliation. Not suitable for those with aspirin allergy due to salicylic acid.
Therapeutic Masks- using a variety of highly potent masks to revitalize/exfoliate all skin types (papaya, green tea, AHA's), soothe/hydrate dry or sensitive skin (oat milk, cucumber, arnica), clarify breakout prone skin (salicylic acid, sweet cherry), retexturize/exfoliate dull, photodamaged skin (pumpkin, AHA/BHA) and/or detoxify oily skin (Japanese white charcoal, kaolin).
Calming Facial- designed to soothe inflamed skin, gently exfoliate and dramatically increase hydration. Perfect for those with rosacea or hypersensitive skin using products that encourage moisture retention and decrease inflammation and redness. Home care is especially important in controlling redness and inflammation associated with hypersensitive skin and rosacea.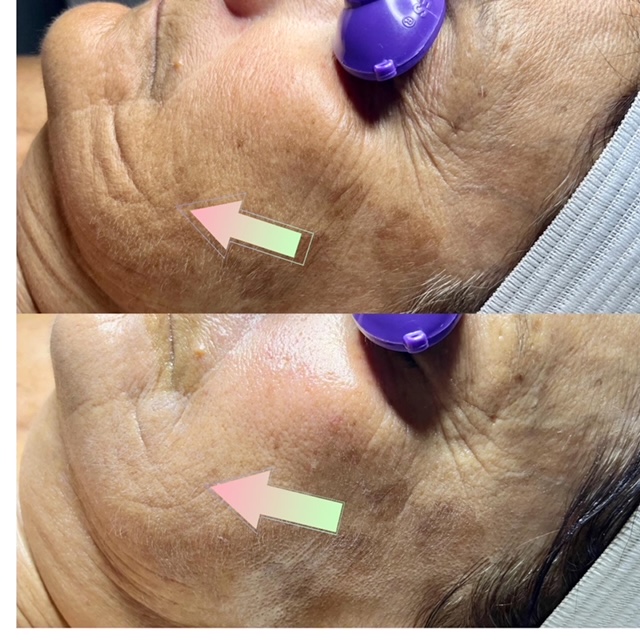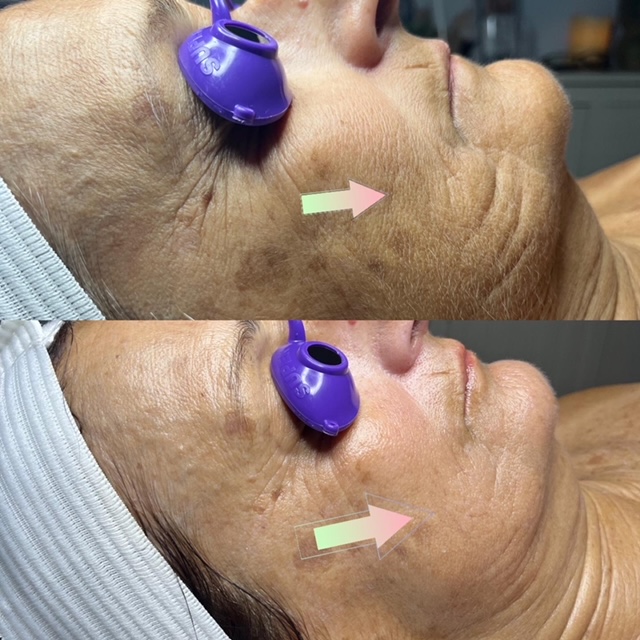 ABOVE RESULTS ARE AFTER 3 ANTI-AGING/HYPERPIGMENTATION FACIALS AND A SIMPLE PCA SKIN HOMECARE ROUTINE.
Acne Control Facial- designed to gently and effectively reduce bacteria and inflammation in the skin using glycolic, lactic and salicylic acids. High frequency device may likely be used to kill bacteria and prevent future breakouts. Home care is especially important in the success of healing acneic skin.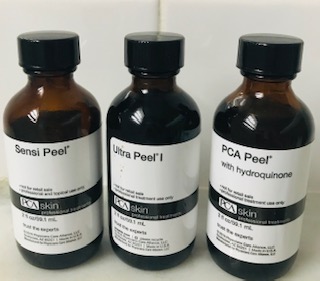 PCA SKIN PEELS
A variety of enhanced Jessner's formulas or TCA chemical peels will be used. These are medical-grade, light superficial peels that dramatically reduce the signs of aging, softening fine lines and wrinkles,decrease hyperpigmentation/dark spots, promote even skin tone, and clears the complexion using ingredients such as lactic and salicylic acids, kojic and citric acids, Vitamin C, hydroquinone, trichloroacetic acid (TCA), and azelaic acid. The popular Sensi peel is an ideal option for those with sensitive skin or rosacea. Due to the progressive (not aggressive) nature of these peels, a series of treatments are recommended to yield the best results possible.
BACK FACIALS
Relieve dry, itchy backs with an exfoliating and hydrating back facial or help clear up back breakouts with a clearing and balancing back facial.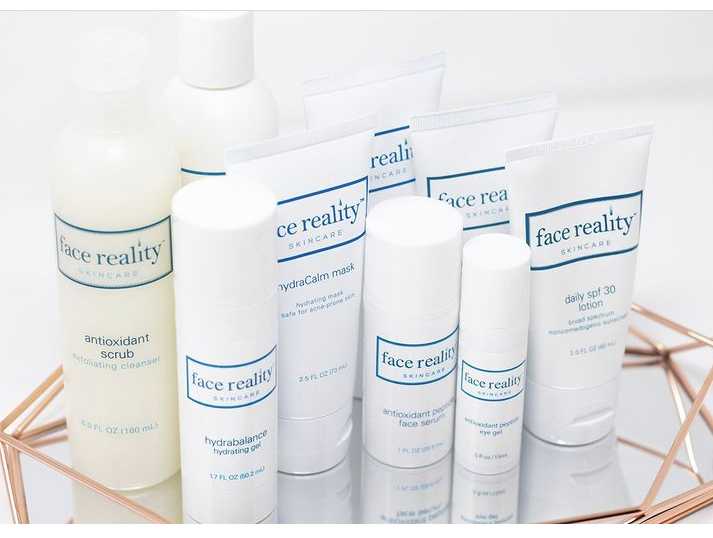 FACE REALITY SKINCARE ACNE TREATMENT PROGRAM
This is a skin-clearing system that includes twice-monthly treatments, a comprehensive home care system of clinical-grade products and development of lifestyle choices that aim to clear problem skin in 3-4 months. Face Reality therapeutic treatments and home care products are carefully chosen specific to your acne type, skin type and skin tolerance. Your routine is adjusted regularly to get rid of your acne. This system requires commitment from you, but the results will be worth it.